Hey fellow HH players.
This is my basic hero leveling guide. It may not be the best possible way to level a hero from 1-30 but I find it to be the most efficient way that I've used.
Ito ay ang gabay sa pag lelevel up ng hero ni Cavedog. Ito ang pinaka mabisang paraan upang maka pag palevel up ng hero mula 1 – 30 na nagamit ni Cavedog.
In this method you will never replace more than 1 hero in your party at a time. The key point of this is to prevent the newest hero to your party from dying and missing experience. This method also allows you to level a hero safely without requiring defensive items to be wasted on them.
Sa paraang ito hindi mo kailangan palitan ng palitan ang hero mo sa party mo kada run. Ang rason nito ay para hindi mamatay ng mamatay ang bago mong hero na inalagay sa party at hindi makakakuha ng exp. Ang paraan ring ito ay hinahayaang kang makapag pelevel ng hero na hindi mo kinakailangan ng items na pag defense at para hindi ito masayang sakanila.
Before you begin you will need one important hero for the front position of your party, this hero will always be in your party and remain at level 30 (or higher). This particular hero is named
Queen Sead.
She can be obtained easily through the recruit > race by leveling the 5 1-star seedlings. The reason you want this hero (or a similar hero with the same type of skills) is that she has revive (in the event your level 1 dies) and heal. Be sure to make her the party leader so your heroes all get 6% bonus health.
Bago ka mag simula, kailangan mo ng isang imporatanteng hero na ilalagay mo sa harap. Ang hero na ito ay si Queen Sead. Madali lang syang makuha sa Recruit> Race at pag papalevel sa 5 Seedling na hero sa lv 30. Ang rason dito ay may skill sya na revive so kung mamatay man ang isa sa mga hero mo pwede itong mabuhay muli. Tandaan na gawin syang party leader para makakuha ng bonus na 6% hp.
The level 1 hero will always be placed in the back row, in the middle spot. This is the safest spot in the party and it is very rare that your new hero will take any damage in this position. From this point onward you will rotate your heroes as shown in the following picture, removing heroes from the green (front right) location as soon as they hit lvl 30:
Ang level 1 na hero ay dapat laging nasa likod sa gitna. Ito ang pinaka ligtas na position sa party at madalang na matatamaan ang hero pag nandito sa position na ito. Ngayon, kailangan mong irotate ang hero mo na ipinapakita sa picture sa ibaba.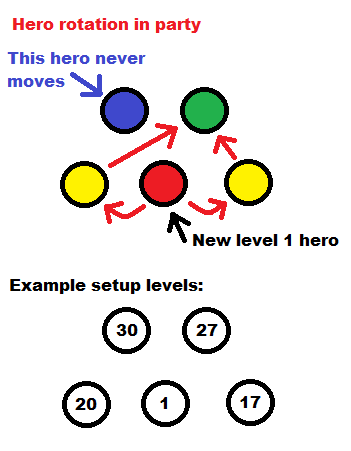 You will run level Keronic Base - 1 (normal) until all of your heroes are above level 20, and if none of them has hit level 30 at this point switch to Keronic Base - 9 until someone in your party hits level 30. At that point rotate your heroes as shown above and start back at Keronic Base - 1.
I have leveled over 100 heroes this way and I have never lost more than 1 wave of experience, and only on a single hero. Even then it will only happen when you get extremely unlucky and your middle back slot gets attacked twice within a very short period of time.
Mag papa level ka sa Keronic Base 1 (Normal) lahat ng hero mo ay lv 20 at pag wala sakanila nag lv 30 lumipat ka sa keronic base 9 hanggang sa sa party mo ay mag lv 30. Pag nag level 30 na ang isang hero pwede ka na mag rotate at bumalik sa keronice base 1.
Nagamit na ito ni Cavedog ng 100x sa pag papa level and hindi pa sya namatayan kay walang nasayang na exp. Sa paraan na ito pwede kang mag auto.
You can feel free to set your game to auto and just let it run.
Have fun and enjoy the game!